Hat Sizes
Bobble Hats
Bobble Hats are made in the UK and are one size fits most.
On occasion customers complain that hats, often the same hat, are "too big" or "too small". Please note, these are not tailored items, so if it doesn't fit you specifically it is not because the hat is faulty in some way. If you have a different hat, made by a different company from different materials that does fit you it is incomparable with the hats we make.
If the hat is of a more complex design this can mean a tighter feel to begin with but this should ease off.
If you need to return a hat please see our Returns Policy.
Bucket Hats
Bucket Hats come in 4 sizes. Please do measure your head carefully before purchasing and consider things such as the amount of hair you have. Like any product with sizing there is tolerance and all measurements are approximate.
Please note, you need to make sure the hat is BIGGER than your head. The hats are made from polyester and are not flexible, they do not stretch.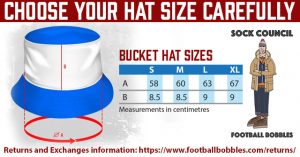 Should you obtain a hat that is an incorrect fit please do see our Returns Policy.