Metgod Bucket Hats are inspired by the kits of the 1984 to 1986 Forest side. They are named after mercurial Dutch defender Johannes Antonius Bernardus Metgod, a legend among Forest fans who was signed for the Tricky Trees from the illustrious setting of Real Madrid.
There are 3 sizes of hat available, please select carefully when choosing your size, leaving plenty of room, and measure your head if necessary. Our return and exchanges policy can be found here.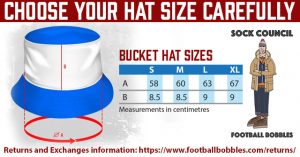 The hats are made from polyester.