Kelly Bucket Hats celebrate an NUFC hero in a simple hat that references the terraces of St James' Park in the late 80s and early 90s. People used to buy similar hats from the NUFC Supporters Club on Percy Street, a big influence on us here.
The hat is reversible with black and white on one side, yellow and green on the other, complete with the coat of arms of Newcastle upon Tyne. Two hats in one!
The hats are reversible, with the home 'barcode' kit design on one side, and the away yellow and green on the other. We have gone to great lengths to recreate the original designs of the shirts working with our own artist, to ensure we are providing a truly unique item.
There are 4 sizes of hat available, please select carefully when choosing your size and measure your head if necessary. Our return and exchanges policy can be found here.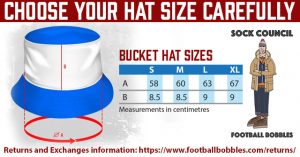 The hats are made from synthetic materials.