Jenkinson Bucket Hats pay homage to two classic HCAFC kits and are named after a man with his own signature move, so he has a signature hat now too!
On one side the 92/93 Tiger stripe kit as worn by Jenky, on the other the Arrow Air kit of the 86/87 season when he made his playing debut.
There are 3 sizes of hat available, please select carefully when choosing your size, leaving plenty of room, and measure your head if necessary. Our return and exchanges policy can be found here.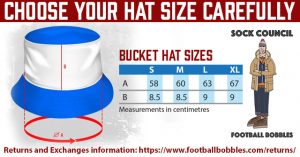 The hats are made from polyester.