Ferdinand Bucket Hats celebrate two classic NUFC kits, the 1995/96 season home & change shirts, celebrating a fantastic Magpies side.
The hat is reversible with black and white on one side, blue and burgundy on the other, complete with our unique logos!
There are 4 sizes of hat available, please select carefully when choosing your size and measure your head if necessary. Our return and exchanges policy can be found here.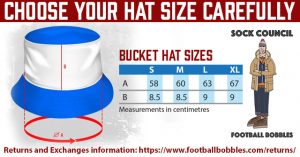 The hats are made from polyester.