O'Brien Bucket Hats draw on the classic NUFC kit from season 1991 to 1993, home and away. The kits were worn across two very contrasting seasons with Newcastle nearly dropping into the third division in 1992 to be rescued by Kevin Keegan and the efforts of club legends Peacock, Kelly, Clark, Kilcline and more. The following season the club romped home as Champions of the first division featuring many of the players from the previous season with emerging heroes complimenting them, namely Beresford, Cole, Venison and Sellars. The club was on the up!
The hats are reversible, with the home 'barcode' kit design on one side, and the away yellow and green on the other. We have gone to great lengths to recreate the original designs of the shirts working with our own artist, to ensure we are providing a truly unique item.
There are 4 sizes of hat available, please select carefully when choosing your size and measure your head if necessary. Our return and exchanges policy can be found here.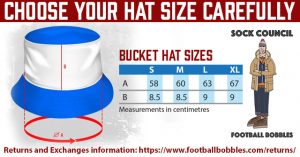 The hats are made from synthetic materials in the EU.