McPahil Bucket Hats are inspired by a classic Sunderland change kit and one of the bucket hats worn by fans to the FA Cup Final in 1992.
On one side of the hat we have the change kit of the 87/88 season, when SAFC were promoted from the Third Division. The team was led by John McPhail, a signing from Bristol City who had worked with manager Denis Smith previously at York. McPhail was the side's leader and chipped in with four important goals as the title was secured!
The reverse of the hat is a tribute to classic hats from 1992. Sunderland is written on the on hat and we've used the font from the "Welcome to Sunderland" sign that used to adorn the back of the Fullwell End.
There are 3 sizes of hat available, please select carefully when choosing your size, leaving plenty of room, and measure your head if necessary. Our return and exchanges policy can be found here.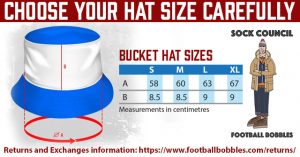 The hats are made from polyester.